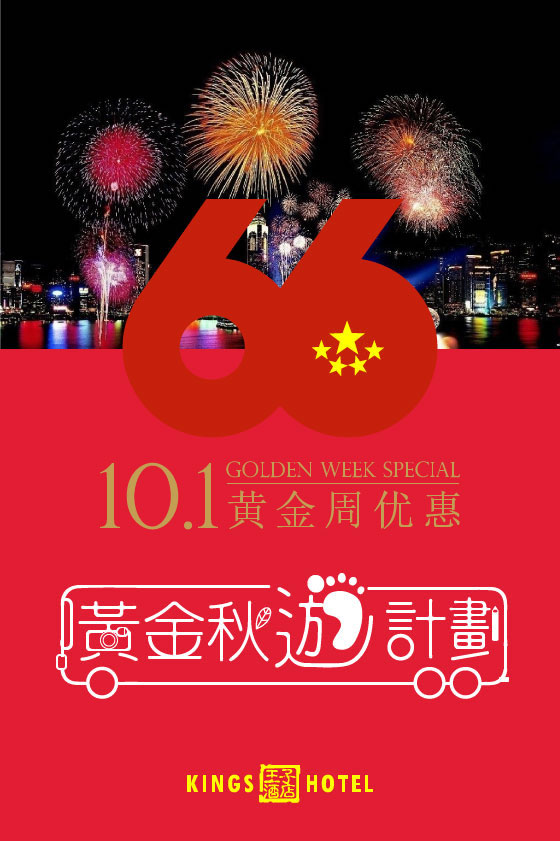 10.1 Golden Week Special Promotion
If you stay between 26/9/2015 to 7/10/2015 at Kings Hotel for 3 nights or more, you can get 2 BIG BUS tickets for FREE (valued at HKD500)! Choose your favourite tour: Hong Kong Island Tour, Kowloon Tour, Stanley Tour or Night Tour!
Please read the following Rules and Terms.
Please feel free to contact our marketing and sales team if you have any questions.
Hong Kong Kings Hotel
Tel: (852) 3188 2277
Email: hongkongkings@kingshotelhk.com


Kings de Nathan
Tel: (852) 2780 1281
Email: kingsdenathan@kingshotelhk.com


Rules and Terms
This promotion is valid between 26/9/2015 – 7/10/2015.
All the pricing is for one room per night plus 10% charge.
Reservation must be made and confirmed 7 days prior to your arrival.
No changes or cancellation will be allowed once booking is confirmed.
All fees and payment must be made before your check in, and there will be no changes or cancellation can be made.
Promotion cannot trade in for money.
Customers must use Kings Hotel's official website for booking and payment, promotion will be activated after the booking is confirmed.
This promotion can be used with the "early bird booking" promotion or "last minute booking" promotion.
Please follow the Big Bus's terms & conditions on the usage of the ticket, Kings Hotel shall not be responsible for any related liabilities.
Our hotel has the right to change or cancel the promotion including price change and promotion removal.
Our hotel has the right to make the final decision on the promotion.